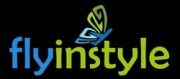 News
•
updated: Apr 20, 2015
Published: ©The Moodie Report By Genevieve Knevitt USA. New technology company FlyInStyle has created an airport concessions super-app that will be launched in 2014 following a test period.
USA. New technology company FlyInStyle has created an airport concessions super-app that will be launched in 2014 following a test period.
The app is designed to be the air traveller's "personal shopper" and "entertainment director" by geolocating the customer and loading retail and dining deals for concessions airport by airport.
The aim, said the company's Founder & CEO Amanda Anthony, is to improve the airport experience, enhance communication between consumers and airports/airlines/brands/concessionaires, drive traffic into concessions and increase spend per ticket. Unlike company- or airport-specific apps, FlyInStyle offers services from multiple companies in airports across the globe.
It also claims to provide access to consumer behaviour data to improve customer interaction, offers and investment returns on marketing activities. The pricing models include revenue sharing, subscriptions, click-through and push notifications.

FlyInStyle offers covers multiple companies in airports across the globe
The Moodie Report spoke to Florida-based Amanda Anthony, who outlined the role that the FlyInStyle app could play in the travel retail and travel food & beverage industries.
The Moodie Report: How did you come up with the idea for FlyInStyle?
Amanda Anthony: Working for P&G Prestige gave me many opportunities to hear the issues the industry is facing, the everyday concerns of my customers and of our brands. With all the marketing dollars we were spending to launch products in travel retail and the limited ways to let travellers know what we were doing I kept thinking, "We could use an app for that".
There are so many opportunities to leverage mobile technology in the airport space to improve the traveller's experience and to continue growing spending in retail, food & beverage over the next several years. Opportunities are endless to offer travellers additional value beyond what is in the market today.

The app aims to be a personal travel assistant, offering retail and dining deals at airports

What makes your app stand out from the competition?
Amanda Anthony: Our vision is to be your personal travel assistant and airport entertainment director in one landing. Current airport apps are focused on the navigation and logistics part of the trip. FlyInStyle is focused on providing travellers' deals, promotions and event information to entertain and delight them. We are seeing more and more airport specific apps, retailer specific apps or apps with limited geographic scope. FlyInStyle will include deals & promotions across categories globally, which means that travellers will not have to download multiple airport apps throughout their trip to find deals. We will work with our partners to cross promote where possible, with links to their websites and apps.
What partnerships with airports/brands/concessionaires have you formed so far?
Amanda Anthony: We have several partners on the brand side in the beauty, jewellery and liquor categories. We also have several duty free retailers on board. We are in discussion with airports, airlines, brands, retailers and restaurants and will continue growing our partnerships across geographies and categories. Our partners are working with us already to provide feedback pre-launch and will be working closely with us during the beta launch period for FlyInStyle. We will formally announce these partnerships prior to our beta launch.

The app will be officially launched in 2014 following extensive testing

What are your goals for the coming months and years?
Amanda Anthony: Our goal is to become the airport deal app not only for the passenger, but for the travel retail industry. We are focused not only on making the passenger experience better in the airport, but also on growing the business of our key stakeholders: airports, airlines, retailers, restaurants and brands. Our long term focus also includes building a backend database and reporting dashboard for our stakeholders to better understand consumer behaviour through mobile technology that will allow them to customise marketing efforts to reach their target demographics.
Share: