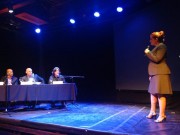 News
•
updated: Apr 20, 2015
Amanda Anthony, founder of FlyinStyle, pitches her company to a panel at StartupCity Miami on Dec. 9 at the Light Box in the Wynwood neighborhood. Author and creative thinker Richard Florida talks about South Florida's startup scene. He was on stage for StartupCity Miami's pitch session on Dec. 9, at the Light Box in the Wynwood Arts District. (Paul Brinkmann)
Best-selling author Richard Florida said he was "proven wrong" regarding doubts he had about Miami's potential to become a technology startup community.
Florida is the author of "The Rise of the Creative Class" and similar works. He's also a senior editor at The Atlantic. He spoke Monday night during an investor pitch session for new businesses as part of StartupCity Miami.
Florida said Matt Haggman, Miami program director for the Knight Foundation, had told him years ago that Miami's art scene could be leveraged into a creative tech startup community.
"To me, it seemed remote and a hard slog," Haggman said. "Not only was I proven wrong, but the acceleration of this community, the bustle … it makes sense."
RELATED CONTENT: Entrepreneur explosion births incubators, shared workspaces
Florida said Miami's transformation is part of a national trend toward urban revitalization moving tech companies and entrepreneurs back into downtown areas.
"What's been really remarkable is … that over the past couple of years, this remarkable shift that no one anticipated, of startup activity, of technology-based companies, of entrepreneurs and entrepreneurial activity moving back to urban environments," he said.
Paul Brinkmann covers venture capital, technology, energy and environment.
Share: