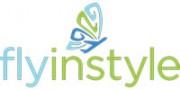 News
•
updated: Apr 20, 2015
Source: ©The Moodie Report By Dermot Davitt INTERNATIONAL. New technology company FlyInStyle has launched its airport concessions super-app via the App Store, after a year-long test period. As reported, the new app aims to deliver special offers and promotions to travellers, and become a marketing tool for airport concessionaires.
The app is designed to enhance the consumer experience at the airport, said FlyInStyle Founder & CEO Amanda Anthony. It should boost communication between consumers and airports/airlines/brands/concessionaires, drive traffic into concessions and increase spend per ticket. Unlike many airport-specific apps, FlyInStyle offers services from multiple companies in airports across the globe.
She told The Moodie Report: "We've spent a lot of time researching and testing the technology and assessing the opportunities. We know that penetration for individual airport apps is relatively low, and the feedback we have is that eight out of ten people would visit a store if they knew there was an offering from a brand they already know and love. We are here to deliver that information.
"We also know consumers want to use their mobile phones to take advantage of offers at airports, and we have the opportunity to drive traffic to brand and retailers around the world while they travel."
The technology works by geolocating the customer and promoting retail and dining deals tailored by airport to them. "Speed is key here," said Anthony. "Once we have a partner's creative assets we can be live with their campaign within five to seven minutes, so as a retailer you can even tailor your message and promotion to a flight arriving shortly from anywhere, from São Paulo to Singapore. It's on the spot targeted advertising directly to the consumer."
The goal is to have 200,000 to 300,000 users within six months, said Anthony, and partners at the world's major airports, backed by a major marketing drive.
The app can also provide access to consumer behaviour data to improve customer interaction, offers and investment returns on marketing activities. The pricing models include revenue sharing, subscriptions, click-through and push notifications.
For more information contact Amanda Anthony at amanda@flyinstyleapp.com
Share: